Your ads will be inserted here by
Easy Plugin for AdSense.
Please go to the plugin admin page to
Paste your ad code OR
Suppress this ad slot.
Now that I've set out my requirements for how I need to manage my information, I now need to settle on a system that meets these requirements.  In the past, I have always been drawn towards David Allen's GTD methodology. I presented a brief introduction to it a few months ago. If you want to read more though, I highly recommend reading the book.  Before I start crafting my own system, it would be good to look at why my previous system hasn't worked, so today I shall look at why the GTD system hasn't worked for me in the past.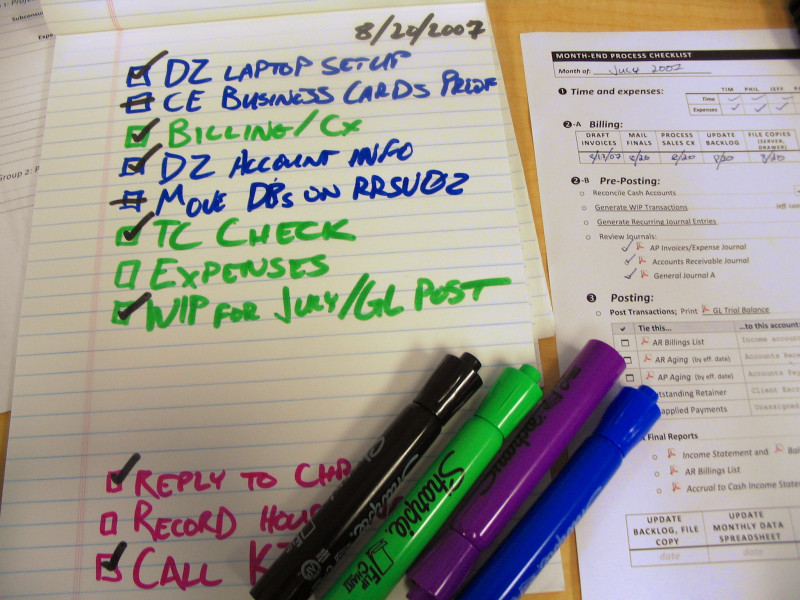 Good Points about GTD
Firstly, what appealed to me about GTD.
Next Action approach – David suggests that you only need to be reminded about the next action needed to be taken for any particular task. You're not project planning, you are simply doing the next action required in order to move the project on. Once you've completed that, you scratch that Next Action off your list and add the next Next Action on.  I like this approach. It's not planning, its just enough to kick you off with completing your task.
Storing Next Actions by context. David recommends setting up lists based on context – for instance @phone, @computer etc. Then, when you are at your phone, you look at your @phone list and you can see immediately who you need to call and make all your calls in one go.
Mind Like Water mentality – Because you store all of your Next Actions in your GTD system, it is suggested that when something urgent comes in and you have to drop what you were originally doing, you can pick it straight back up, because you can see at a glance what the Next Action against that particular project was.
Keeping all your inboxes empty – Processing everything in your inbox (be it email, voicemail, physical in-tray etc) regularly and keeping it empty. Touch every item once and decide what the action is and whether to do it, defer it or delegate it. This is very much a systems approach, which again, appeals to the geek in me.
Why GTD Didn't Work For Me Last Time
So, that's what appealed to me. Why didn't it work? Well, several reasons that I can see.
I struggled to decide on what the Next Action should be for some of my incoming items. I let this resistance get the better of me, so rather than clear the item out of my inbox and into my system, it sat in my inbox. Then my inbox got clogged up.
I struggled to find the time to do the Weekly Review that David suggests is necessary for GTD. It worked well at first, but then work pressures built up and I would postpone it further and further. Eventually it just didn't get done one week. And then the next. Guilt got the better of me and I hid from it. Slowly my system disintegrated.
Seperating out work and personal systems – In some ways this worked, in others it was more complex. Due to limitations at work on what computer software I could use, I ended up using 2 different GTD tools – one for home and one for work. In hindsight, I think things would have worked much better had I just kept one tool, consistent across both.
Moving On From There
I think that some of the key reasons behind these failures is that I struggled to build and keep the habits required.
Reading through the GTD book again and the sudden change in lifestyle from chaos to organising everything and going to a weekly review is a huge cultural change. There are a lot of habits to change – how you handle your inboxes, regularly reviewing your system, looking up your lists when you are in a position to tackle a particular context.
Your ads will be inserted here by
Easy Plugin for AdSense.
Please go to the plugin admin page to
Paste your ad code OR
Suppress this ad slot.
Habits are vital in order for something to run smoothly. The natural human tendency though, is to fight change. This makes jumping from one system to another hard work. I think this is one of the key reasons why my attempts to order my system failed.
David Allen tells you how your system should work and what you should do with your system, but he doesn't cover, in enough detail, how to change from chaos to GTD in a way that will work for the majority of people.
As this could be a habit building thing that I need to overcome, I have turned to Leo Babauta. For those of you who have followed my Sunday Muse posts, you may recognise the name from some of the articles I have recommended. Leo writes over at Zen Habits and has spent a lot of time studying and writing about habits.
I've discovered that Leo has written a book entitled Zen To Done (available as a Paperback, e-book or an audiobook), which describes itself as being "a system that is at once simple, and powerful". I like the emphasis on the simple, so I will try and give that a read, as well as dig a bit deeper into Leo's site to learn what I can about how I can use habits to get into a system that will work for me.
I know I can build habits that work. I've managed to build a writing habit. For some time now I have kept to writing at least once a week on this site. That was just one change though. Perhaps I need to build things one step at a time.
Hopefully I will be able to review many of the key articles on Leo's site before next week's post, as well as Zen to Done. I shall report back then on my findings.