Your ads will be inserted here by
Easy Plugin for AdSense.
Please go to the plugin admin page to
Paste your ad code OR
Suppress this ad slot.
Hello!  Its Sunday Muse time again.  I'm feeling quite chirpy today, while I write this.  I've had quite a satisfying week at work and now the sun has come out for the weekend.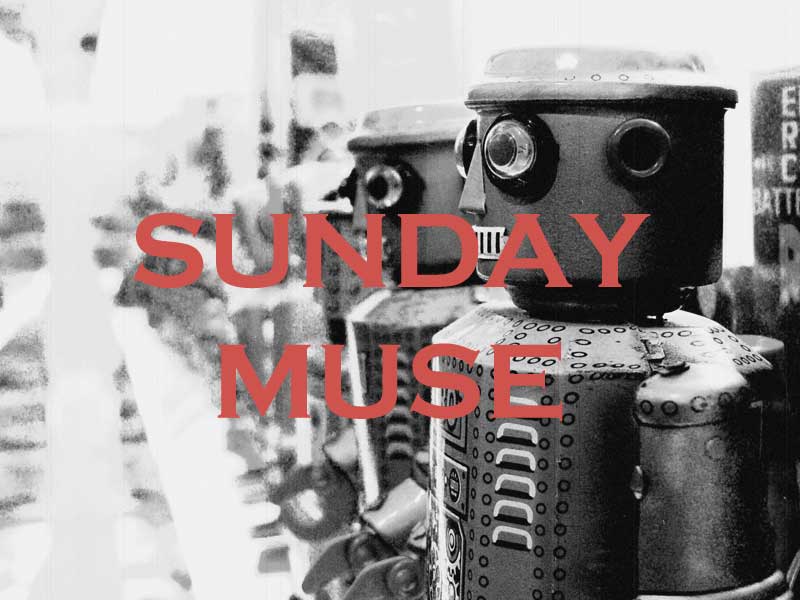 Over the week I moved desks at work.  I'm now sat within the team I will be working with over the next 6 months or so.  I've also moved away from my corner desk, facing 2 walls and I now face into the office with a window on the other side, which is great.  I've got a lot less storage room, but that has made me really think about what I need to keep and what I don't.
Lots going on this weekend.  Opticians appointment yesterday to check out my new glasses.  They've been giving me a headache when I've been wearing them, so I wanted to get them looked at.  Unfortunately they couldn't find anything wrong with them, so they are thinking it might be the frames in my peripheral vision.  Its pretty annoying as I really like these new frames.  They're different from what I usually go for.  Going to see how I get on with them, but then the optician has offered to swap them for a different pair.
Also got hold of some concrete slabs to extend our driveway a bit.  Some friends of ours are getting rid of them, so they have let us have them.  They're incredibly heavy though – I'm having to take them in my car 2 at a time before the suspension bottoms out.  That's another job to add to the garden list.  That's a list that's going to get tackled today.  The garden is literally growing away with us.
We spent the rest of the afternoon at a local "Beer and Bourbon Festival".  Was lovely just to chill out for the afternoon and evening with friends.  Feels like an age since we've done that.  Sat on a grass bank with a few beers in the sunshine.  Lovely!
We're going to get out on the bike today also.  Sarah picked up her new bike on Thursday, so that is her new toy.  We're both very excited about bike rides in the sunshine and stopping off for a picnic.  So that is her new toy.
I also bought a new toy, which I picked up yesterday.  A Samsung Galaxy Note 8.0*.  I've been umming and ahhing about getting one for a while.  At first it felt like a bit of a gimmick, but then I started seeing the benefits.  I'll be able to keep up with my writing on the move, without having to lug a heavy laptop around.  This has been something I've been struggling with – keeping on top of writing articles fro the website.  Meeting notes will be simple to record and looking stuff up on the internet will be easier at a moments notice.  Essentially, it will be that device that is somewhere between my phone and a laptop and remove most remaining resistances for doing stuff.
I looked at the Nexus 7 also.  The screen seemed just that bit too small, that it wasn't that much better than a smartphone.  The extra inch on the Galaxy Note was just enough.  I'd already decided that 10″ was too much anyway.  The kicking point for me was when I tried out the S-Pen that comes with the Galaxy note.  The way Samsung have integrated it is amazing.  Handwriting recognition, shape recognition and just general scribbling.  Its like having a top end drawing tablet in your hands.
Site News
Your ads will be inserted here by
Easy Plugin for AdSense.
Please go to the plugin admin page to
Paste your ad code OR
Suppress this ad slot.
As I mentioned last week, I felt the articles I was writing for this site were starting to get a bit stale, so I am going to start a series of posts revamping my productivity system.  I'm going to talk you through the full process, from what I need to get out of any productivity system, the tools I look at using, the trials and tribulations of using it and any tweaks I end up putting in.  I'll probably end up reviewing a few systems currently out there, such as GTD, and how they could fit into my life.
I've already tried various methods of keeping on top of things, but I always seem to fall off the wagon.  Hopefully this time things will go a bit smoother if I take a bit more time to look at what I am doing, rather than just jumping in feet first.
I've also updated the Nook Rooting article to include a few hints and tips submitted by readers.  If you did get to this site looking to root your Nook, then don't just read the article, scroll down the hundreds of comments below – there are some really good discussions down there with useful information.
Articles I've Read This Week
I'm Rita J. King and This Is How I work – Tessa Miller (Lifehacker)
I love the "This Is How I work" series over at Lifehacker.  I find it fascinating to see how other people handle they're day-to-day activities.  If there's one thing that sticks out to me its that everyone has their own way of working.  No two people end up working the same.  I picked up a few useful tips in this article from how Rita handles her to-do list.  I'll probably look at some of her ways of working in my forthcoming series.
The thing I like the most though, is the sound of the Science House and the Imagination Room, where you can write on the walls.  I love that idea!  I'm not sure we will be able to do that in rented accommodation though!
How To Start An Effective Email Search – Piotr Nabielec (Lifehack.org)
Handling email is another area that I want to focus some attention on over the coming few months.  Piotr presents a few extra tools you can use for searching through your email, both in Outlook and GMail, using operators like from: and hasattachment: .
Building a Portable Design Toolkit – Martin Gittins (Smashing Magazine)
One of my hobbies is digital art.  Being able to up sticks and go and carry on my work somewhere other than home is a huge bonus, so this article immediately jumped out at me.  Martin recommends paring down your main tool kit and establishing which your favourite tools are.  He then shows how he uses tools like Dropbox and Evernote to keep it all together.
So, that is another week over.  I can see a busy week ahead of me next week, but I'm looking forward to it, so that is the important thing.